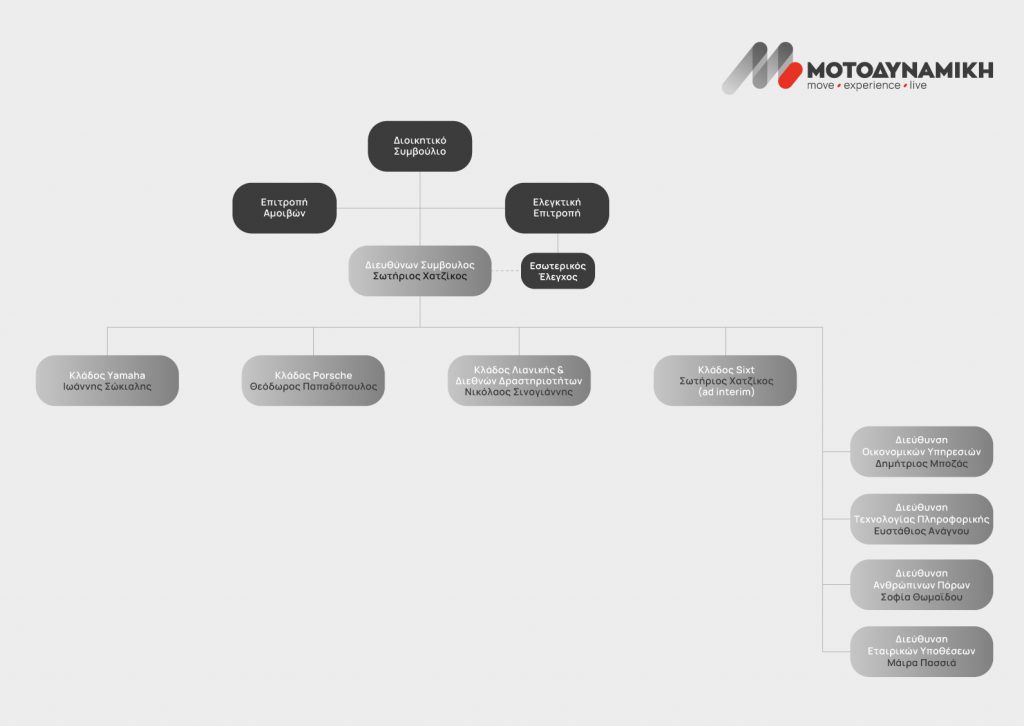 Sotiris Hatzikos – Chief Executive Officer
He holds the position of Chief Executive Officer of MOTODYNAMICS S.A since January 2008. Between 1994 and 2007 he worked for S&Β INDUSTRIAL MINERALS S.A. Group (Former Silver & Baryte Ores Mining Co. S.A.), becoming the Group Chief Financial Officer for the last few years of his term. In the past he worked for the multinational industrial gas group AIR PRODUCTS PLC in the UK as European Treasury Operations Manager. For a number of years, he taught the «Mergers & Acquisitions» course in the Professional MBA program of Athens Laboratory of Business Administration (ALBA). He graduated from the Aristotle University of Thessaloniki with distinction in Economics and Business Administration. He holds a Master's degree in Business Administration (MBA) from Manchester Business School
Giannis Sokialis – Yamaha Division Manager
He studied Business Administration with specialization in Marketing at the Economic University of Athens, where he also attended the MBA with a scholarship. He has been working at Motodynamics since 1997, where he has served as Retail Manager and Managing Director of the subsidiary company Motodiktyo S.A. (2011-2016), Land Products Manager (2008-2010) and After Sales Support Manager (2002-2007). In 2017 he was appointed Director of Yamaha Sector.
Theodoros Papadopoulos – Porsche Division Manager
Studied Economics at the National and Kapodistrian University of Athens. He holds a Bachelor of Science (with distinction) in Marketing Management from the American College of Greece (Deree College). He also holds a Master's degree in Business Administration (MBA) from the University of Bath (UK). Before joining MOTODYNAMICS Group he has worked at the Marketing Division of Ridenco S.A. He has been working in Motodynamics since 2002, initially as Product Manager and then (in 2007) as Group Product Manager, Accessories, Parts, and Lubricants. In 2010 he was appointed as International Operations Manager, having under his responsibility the General Management of the Group's subsidiary companies in Romania (Motodynamics SRL) and Bulgaria (Motodynamics LTD). Parallel to these duties, since 2011 he has also taken the position of Marketing Manager in the Yamaha Division in Greece. He has kept this dual role until February 2017, when he was appointed as Porsche Division Manager.
Nikos Sinoyannis – Retail and International Operations Division Manager
He studied Mechanical Engineering at Piraeus University of Applied Sciences, he holds an MSc in Advanced Industrial and Manufacturing Systems from Kingston University and an Executive MBA from Athens University of Economics and Business (AUEB). He has worked for many years holding key positions in the Motorcycle industry and for the last 3 years he has been the Head of BMW Motorrad for the Greek market. Since February 2019 he has been working at Motodynamics S.A. in the position of Retail and International Operations Manager, in charge of the Group's subsidiaries: Motodiktyo S.A., Motodynamics S.R.L. and Motodynamics L.T.D..
Dimitrios Bozas – Chief Financial Officer
He holds a Bachelor degree in Business Administration from the University of Macedonia in Thessaloniki. He is a member of the Economic Chamber of Greece and he holds the A' Class Accountant and Finance professional licenses. He has almost 20 years of working experience in several roles in the Finance functions of the companies G-Systems S.A., Media Markt Hellas and Mars Hellas when the last 8 years he was the Chief Financial Officer of Carglass Greece. In September 2017 he joined MOTODYNAMICS S.A. as the Chief Financial Officer.
Stathis Anagnou – IT Manager
He holds the position of Motodynamics IT Manager since 2008. Before, he worked at S&B Industrial Minerals Group where, as a SAP Certified Consultant in Financial Accounting, he was holding during the last years the position of the Head of Corporate Application. In the past, he worked for seven years in the banking sector as IT Expert (Barclays Bank Greece and Bank of Greece). He holds a bachelor in Informatics and Telecommunications from the National and Kapodistrian University of Athens and an MSc in Information Systems Engineering from the University of Manchester Institute of Science and Technology (UMIST)
Sophia Thomaidou – Human Resources Department
She has collaborated with a number of Greek and Multinational organizations (Schneider Electric, Interamerican, SC Johnson, ING, ALAPIS, Zeler Advisory) in Managerial positions both in line and consulting roles and has extensive experience in designing, developing and implementing initiatives and programs that increase employee engagement and support organizations in maximizing the potential of their human capital. During her career she has undertaken many initiatives where she was asked to design and execute programs that accelerate performance, emphasize employer branding and engage employees in a variety of industries. She has a Bachelor Degree in Sociology at the American College of Greece (Deree College) and an MSc in Human Resources from the University LYON II in France. She is also a Certified Neuro Linguistic Programming Trainer απο το American Board of NLP.