2022 a record year for MOTODYNAMICS –125% year on year dividend increase
MOTODYNAMICS ended 2022 with robust growth and increased profitability across all divisions.  In particular, sales reached 132 million euros, representing an 39,4% increase year on year. EBITDA increased by 78% to 25,2 million euros, and pre-tax earnings increased 130% to 14,2 million. The Board of Directors plans to propose to the General Assembly a dividend distribution of 0,09 euros per share, up from 0,04 euros last year.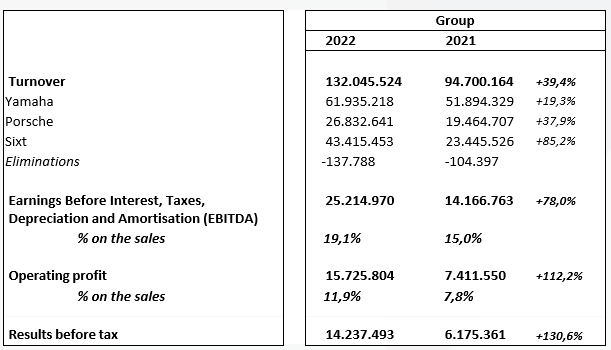 Sales of moto and marine products (Yamaha) reached 62 million euros, representing a 19,3% increase, despite continued supply chain disruptions. Car sales (Porsche) increased by 37,9% to 26,8 million euros. 
The car rental business (Sixt) continued its impressive recovery, with sales reaching 43,4 million euros, an 85,2% increase over 2021. 
The Group's long-term assets amounted to 54,3 million euros in 2022 – excluding the impact of IFRS 16 – representing a 30,7% increase over 2021. The increase is primarily the result of investments in the rental fleet (Sixt). 
The Group's Operating Cash Flows contributed to financing the acquisition of new cars for Sixt's, with borrowing covering the remainder of the investment. The Group's Net Debt amounted to 19 million euros, up 8,7 million euros year on year.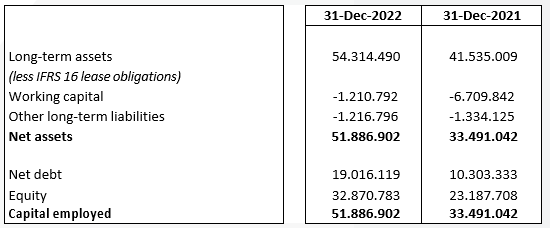 Paris Kyriacopoulos, Group Chairman and Chief Executive Officer released the following statement: 

"The year ended with impressive results across all our activities. Sixt outperformed expectations in 2022, with short-term car rental revenue beating the 2019 record by 47% and Gross Profit increasing by 87% year on year. Our Yamaha and Porsche activities ended the year with record sales and profits, despite continued supply chain issues. We continue to follow closely the volatile geoeconomic and political environment and invest in our strategy and markets. The MOTODYNAMICS team along with its partners and collaborators has laid strong foundations for the Group's continued growth and success for the coming years."