MOTODYNAMICS – First Half 2023 Results
The first half of 2023 ended with a considerable growth in all figures for Motodynamics. Specifically, sales amounted to EUR 76.8 million, recording an increase of 32.9%, earnings before tax, interest & depreciation (EBITDA) amounted to EUR 10.1 million (increased by 29.1%) and earnings before tax rose to EUR 4 million (up by 23.5%).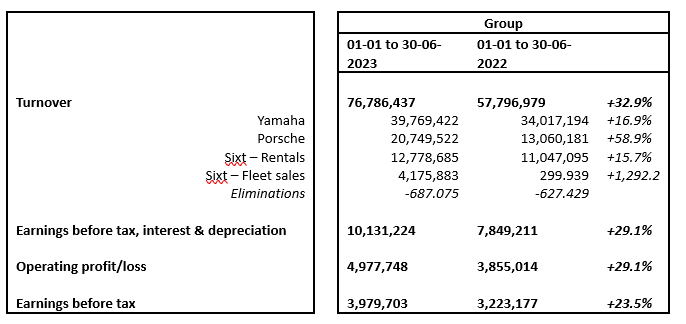 Sales of motorcycles & marine products (Yamaha) amounted to EUR 39.8 million, recording an increase of 16.9%. Excellent picture also for the Porsche business, with sales amounting to EUR 20.8 million, recording an increase of 58.9%. Growth in car rentals (Sixt) as well, with revenues from car rentals amounting to EUR 12.8 million, i.e. increased by 15.7% and car sales rising to EUR 4.2 million.
In the first half of 2023, the Group's long-term assets amounted to EUR 63.7 million (excluding the effect of IFRS 16), recording an increase of 17.2% compared to 2022. This increase is mainly due to investments to rental fleet (Sixt).
The Group's positive operating cash flows entirely financed the purchase price for the minority shares of the subsidiary Lyon Rental amounting to EUR 7.7 million and contributed to the financing of Sixt's fleet growth, with the remaining part of the investment coming from loans. Thus, the Group's net borrowing amounted to EUR 35 million, increased by EUR 16 million compared to 2022.



Chairman & Managing Director Mr. Paris Kyriakopoulos stated the following:
"Motodynamics had a very good half, with significant growth in sales and profitability across all our businesses. Particularly impressive is the increase in two-wheelers, marine products and Porsche vehicles, where the business cycle is growing faster than their individual markets. This growth is partly due to the general normalization of the supply chain, with product availability being much better than in the corresponding 2022 half. For the second half of the year, we still see shortages in specific products, with the overall picture of deliveries from our suppliers continuing to improve. We expect the year to show further strength and, although the percentage growth in figures will not be as impressive as in the first half, we are looking forward to substantial growth in sales and profitability for the remainder of the year.
Car rental continues the upward trend of recent years, with the profitability of our business being under pressure compared to 2022 due to an increased supply of cars in the market. The car rental business in the first half grew by 15.7%, and we expect further growth in the second half of the year, but at a slower pace than in 2022. The sales of fixed assets in the first half were also significantly increased, with the company taking advantage of the favourable market conditions for used cars and recording significant gross profitability with very targeted actions. Similar moves will be made in the second half of the year, always in view of our medium-term plan for this business.
Finally, we should also mention the now completed acquisition of the minority package of Lion Rental, which was funded entirely from own resources and is another milestone in our Company's history.
While we see many positive signs for our markets, we continue to monitor the highly volatile geopolitical and economic environment and remain ready to react to potential material changes in demand for our products."