Record year for MOTODYNAMICS and a high dividend
2022 ended with a strong growth in all figures for MOTODYNAMICS. Specifically, sales amounted to EUR 132 million, recording an increase of 39.4% compared to 2021. Earnings before tax, interest & depreciation (EBITDA) amounted to EUR 25.3 million, increased by 78%, while the results before taxes amounted to EUR 14,2 million, more than double the amount of 2021. Therefore, the Board of Directors will propose to the General Meeting a dividend distribution to the shareholders of EUR 0.09/share compared to EUR 0.04 last year.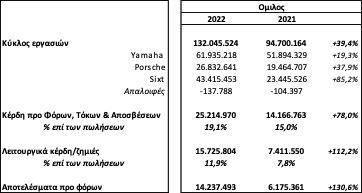 Sales of motorcycles & marine products (Yamaha), despite problems in the supply chain, amounted to EUR 62 million, recording an increase of 19.3%. Car sales (Porsche) amounted to EUR 26.8 million, increased byy 37.9%
. The car rental business (Sixt) continued its impressive recovery after the limitations of the pandemic, with sales amounting to EUR 43.4 million, increased by 85.2% compared to 2021.
In 2022, the Group's long-term assets amounted to EUR 54.3 million (excluding the effect of IFRS 16), recording an increase of 30.7% compared to 2021. The increase is mainly due to investments in the rental fleet (Sixt).
The Group's positive operating cash flows partly financed Sixt's fleet growth, with the remaining amount drawn from loans. Thus, the Group's net borrowing amounted to EUR 19 million, increased by EUR 8.7 million compared to 2021.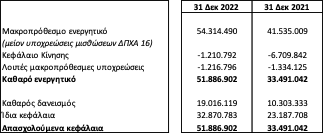 Chairman & Managing Director, Mr. Paris Kyriakopoulos stated:
"The year ended for MOTODYNAMICS with extremely impressive results in all its business sectors.  Sixt exceeded all expectations in  2022, with short-term car rental revenue up 47% compared to 2019. Profitability was similarly spectacular.   Despite the supply chain issues they faced  – and are still facing – in the supply chain, Yamaha and Porsche closed the year with record
sales and profitability. We are monitoring the volatile geoeconomic and political environment and continue investing in our strategy and markets.  MOTODYNAMIKI's team and partners have laid the foundations for the further development of the Group's figures in the following years."