MOTODYNAMICS: Strong growth in all figures in the first half of 2022
The first half of 2022 ended with a strong growth in all figures for Motodynamics. Specifically, sales increased by 32.4% to EUR 57.8 million. Earnings before tax, interest & depreciation (EBITDA) amounted to EUR 7.9 million, almost three times the amount of 2021, while the results before taxes amounted to EUR 3.2 million, when in the same period last year a loss was recorded.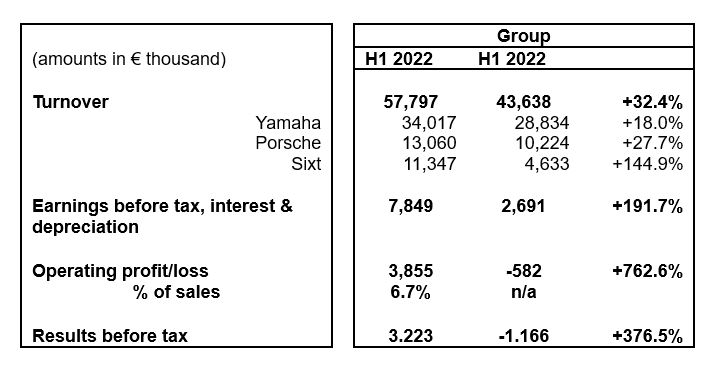 Motorbike and & marine product sales (Yamaha) have maintained their momentum (even though supply chain issues persist) and increased by 18% to EUR 34 million. The situation is similar in car sales (Porsche) with an increase of 27.7% to EUR 13.1 million, in a market that had negative growth in the first half of 2022.
The recovery in car rentals (Sixt) has been spectacular, with sales amounting to EUR 11.3 million, i.e. increased by 144.9% compared to the previous year.
Positive operating cash flows partly financed Sixt's fleet growth, with the remaining amount drawn from loans. Thus, the Group's net borrowing increased by EUR 7 million to EUR 17.3 million.


The Chief Executive Officer, Mr. Sotiris Hatzikos, said: "Having adapted to the ongoing unpredictable delivery conditions as regards Yamaha and Porsche, but enjoying a strong tourism season with Sixt, we are going through a particularly strong year in all our business.  We are optimistic that our growth will continue at a robust pace for the rest of the year."